Google has shut down Google Translator Toolkit, a cloud-based free computer-assisted translation (CAT) software for professional translators. If you were a Toolkit user and are looking for an alternative, here's why Termsoup might be the best option for you.
...
Why translators used Toolkit
Here are some reasons why translators used Toolkit:
Pricing: Toolkit was free. After all, we all love free stuff.

Cloud-based software: No need to download or install anything to your computer. All you had to do was just open up a browser and log into your account, and you were ready to use Toolkit.

Supported multiple file formats: Toolkit supported many file formats. This is so impotant because translators constantly receiving all kinds of files from our clients.

Import/export your digital assets: You could import/export translation memories and glossaries to Toolkit and reuse them. This is extremely useful for technical translators.

Usability: Toolkit was not fancy at all. It was a no-frill and rather easy to use tool, compared to many full-fledged software.
...

Why Termsoup is a great alternative to Google Translator Toolkit
Given the benefits of using Google Translator Toolkit stated above, what makes Termsoup a great alternative for Toolkit users?
Cloud-based
Termsoup is a cloud-based CAT tool and is easy to access. We host our server on Amazon Web Services (AWS) in Japan. With a browser, you can access Termsoup anytime and anywhere without downloading or installing anything to your computer.
Supports multiple formats
Termsoup supports most of the common formats, including doc, docx, xls, xlsx, ppt, pptx, txt, html, xml, dtd, json, csv, yaml, srt, wix, json, yml, odt, ods, odp, po, xlf, xliff, sdlxliff, ttx, mif, idml, icml and dita formats.
Import and export your digital assets
You can import and export your glossaries or translation memories to Termsoup. You can also configure settings to best fit your needs. For example, you can set the translation memory as the primary resource for reuse, and Google machine translation the second if there is no matching translation memory. You can also tweak your settings to show only specific glossaries when translating to avoid being distracted by too many irrelevant terms.
Usability
Termsoup is probably the most simple and easiest CAT tool you will ever find. We designed Termsoup with a "Don't make me think'' philosophy in mind, striving to give translators the best user experience. Translators who have never used or even heard of a CAT tool can learn to make use of Termsoup in under thirty minutes. For those who are already familiar with Toolkits or CAT software, Termsoup is a piece of cake.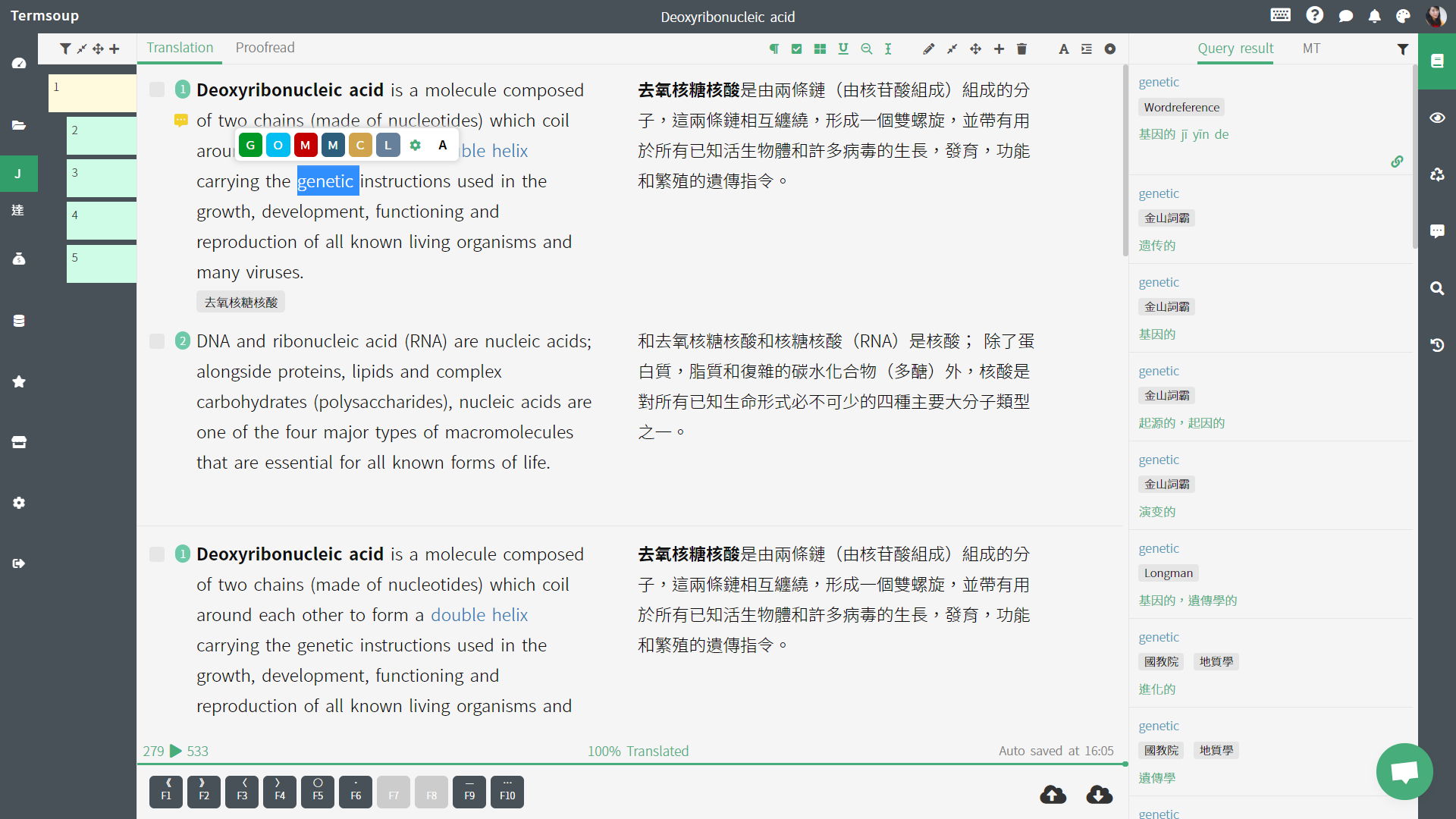 External resources
Termsoup connects to multiple online dictionaries and resources for the translators' reference. To look up a term in your source text, highlight the term and query results from several resources will be displayed on the same page right away. With a few more clicks, you can use the provided translation or add the highlighted term to your glossary.
Collaboration
You can collaborate with a Termsoup user on a file anytime. If you are familiar with how to share a Google Doc, then you already know how to do it on Termsoup. If you don't, don't worry. It'll take you a minute to figure it out. You can set different permissions for your collaborators and view their edits. You can also discuss the translation with your partners on Termsoup.
Project management
Translators need to manage projects too, but in a simpler way. To have a better understanding of how your project is going on, you can set a deadline, set a project status, or create a bookkeeping record for your project. While you're translating or proofreading, Termsoup will automatically record how much time you spend, and calculate your hourly productivity.
Bookkeeping
You can create a bookkeeping record for a file or a project. After filling in some information, Termsoup will automatically show you your income, net profit, hourly rate, and accounts receivable days. You will also be able to know who your most valuable customers are. These will help you better understand your financial status.
Pricing
Toolkit is free, but Termsoup is not. Yet we offer you an affordable price and flexibility to pay for it only when you need it. With a trial plan, you can try all of Termsoup's features without entering your credit card number. With a monthly subscription plan, you cancel the plan anytime.